2625 Emerald Drive, Kalamazoo, MI 49001
Phone: 1-800-you-kool
Fax: 262-349-8951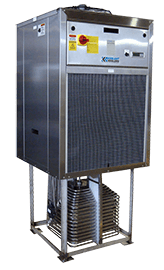 Koolant Koolers, a division of Dimplex Thermal Solutions, is a global manufacturer and provider of standard and custom chiller solutions. Known and recognized for years of experience in the cooling industry, Koolant Koolers provides reliable and affordable chiller solutions for your industries and applications. Easily serviceable machines provide optimal up-time and peace-of-mind, knowing your application is running with optimal cooling. QUALITY CHILLERS, EXCEPTIONAL VALUE.
Industrial Water chillers and liquid coolers
Standard and custom units for Welding
Coolant, Lasers, Spindles, and Hydraulic Fluids
Units from 1/8 ton to 1000 ton capacity